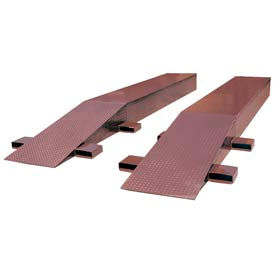 Steel Wheel Riser Ramps
Steel Wheel Riser Ramps allow Trucks and Semi-Trailers to be Positioned Properly Above Docks for more Efficient Loading.

Loading Dock Wheel Risers are a great way to keep tractor trailers level at Loading Docks. Maintaining a level trailer with the Dock eliminates safety hazards associated with uneven dock ramps. Risers are designed to facilitate compliance with OSHA requirements for a 10% maximum grade of ascending or descending loaded forklifts. All-welded steel wheel Ramps have a non-skid diamond treadplate surface for safety. Built-in 7½"W x 2½"H fork pockets offer easy portability with a forklift and add 15" to the overall width of each riser. Durable brown enamel finish.

Risers are sold individually - 20,000 lb. capacity per Riser (40,000 lbs. per pair).

Note: Dual wheels on semi-trailers are 18" wide, so the 24" wide Wheel Risers work best for this application.

Optional Anchor Bracket Tabs allow the Riser to be permanently positioned. Tabs are welded to the fork pockets allowing the Wheel Riser to be anchored to the ground.

Optional Central Forklift Pick-Up Assembly allows one pair of Wheel Risers to be moved at the same time. Connects two Wheel Risers (sold separately) together allowing forklift trucks to easily position and move Risers as one. Overall width is 102".