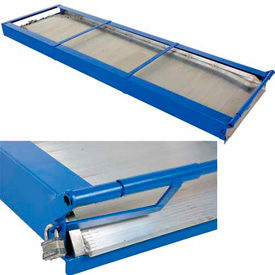 Truck Mounted Aluminum Walk Ramps
Save Valuable Space in your Truck.

Truck Mounted Aluminum Walk Ramps include a steel pocket frame for under-truck mounting, with linkage to prevent the ramp from falling out. Ramp is constructed of lightweight welded aluminum that will not rust and features non-slip serrations for extra grip. An integral manually operated Spring-loaded Lock secures the Ramp into the frame. Hand Loops are included to assist with Ramp deployment. Overlap style end lip rests on the trailer bed to provide a smooth transition. Each Ramp includes 2"H side curbs and 2 Chains to connect the Ramp to the truck for added safety.

Note: 28" overall Ramp width, 26" usable Ramp width and 29-½" overall frame width.