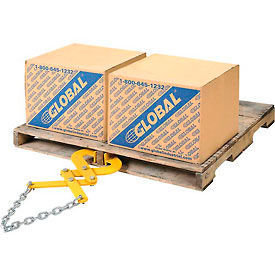 Double Scissor Pallet, Skid & Crate Grabbers - Pullers
Double Scissor Pallet Grabbers and Pullers Allow Easy, One Person Pallet Moving.

Double scissor pallet, skid and crate grabbers – Pullers pull loaded pallets and skids, plus slide heavy Crates and Containers, to the edge of a Dock or Truck so they can be picked up with a Forklift truck. Skid Pullers have a variable jaw width to securely grab the pallet or skid. Pallet Grabbers feature an automatic release. 3.3" maximum jaw opening is primarily used for center stringer pulling. Additional specifications vary per model.