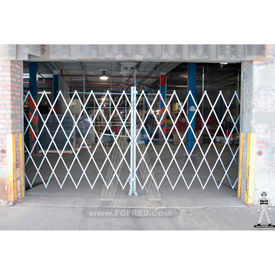 Illinois Engineered Products Eco Gate™ Folding Dock Security Gates
Illinois Engineered Products Eco Gates™ are Constructed of 100% Recycled, Recyclable Galvanized Steel.

The Eco Gates™ are a low-cost alternative to the traditional Illinois Engineered Products Heavy Duty Folding Gates and are made in the United States. Gate features a galvanized non-toxic, water-based corrosion-resistant finish that withstands any type of weather, as well as most industrial chemicals/cleaners. 15 gauge (.071" thick) steel U-channel webbing is riveted back-to-back with aircraft quality aluminum rivets for long life. Gate is hinged, can be mounted Left or Right virtually anywhere and collapses/pivots 180° completely out of the way providing safe door openings 100% clear of obstructions. Gate offers access control and security while providing visibility and air circulation. Folding gate features heavy-duty 1-½" x 1-½" vertical member angles and a 5/8" self-securing drop pin that is designed to fit directly into floor holes for maximum strength and security. Gate includes brackets, bearing washers, solid steel rolling caster and can be installed easily in less than 30 minutes.

Note: Custom sizes and powder coating colors are available; call for more information.

Note: Padlock sold separately.