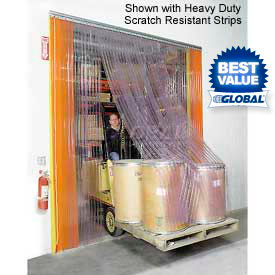 Energy Saving Strip Curtains & Strip Dock Doors
Energy Saving Strip Curtains and Strip Dock Doors Provide Vinyl Strip Door Entrances For Storerooms, Warehouses, and more.

Energy saving strip curtains and strip dock doors help contain environment and temperature within storerooms. Exclusive glass filled polypropylene Mounting Brackets (included) reduce strip curtain installation time by 90%. Pre-punched PVC Plastic Strips simply hook on and will not accidentally come off. 12"W x .120" thick Strip Doors have a 66% overlap (4" each side) to conserve energy. Strip Curtains reduce A/C and heat loss as well as noise, dust and fumes. Heavy-duty, flexible vinyl strips are transparent for 2-way visibility and are warp-resistant. The rounded edges and concave/convex overlap improves sealing and eliminates dangerous, sharp protrusions. Strip Doors provide an effective thermal barrier and temperature resistance from -10 to 150 degrees F. Special UV stabilizers help reduce fading or yellowing. Self-extinguishing and fire-resistant. Safety orange end panel strips included. Fire-resistant, as well as self-extinguishing, and registered as such by the California state Fire Marshal's office.

Available with Standard Grade Smooth clear, or Loc-Rib™ clear and heavy duty Scratch-Resistant clear strips for high traffic applications.

Note: W' x H' size shown is for Recessed Mounted (Under Header) Doors. For Surface Mounted (On Wall) Doors, order Strip Door 1 foot wider and higher than door opening.