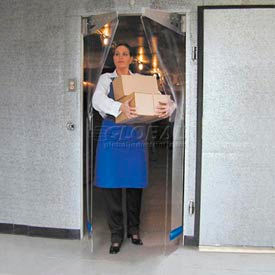 Walk-In Freezer Swinging Doors
Doors are used for allowing Fast Access to High-Traffic Walk-In Coolers and Freezers.

These Impact Doors allow product sensitive Main Coolers or Freezers to be closed without interference. Stainless Steel swinging hinges are corrosion resistant and allow the Door to open in and out on an even plane, maintaining a tight seal along the top of the Door and around the hinges. Flexible PVC Panel is attached to the bracket so that the doorway opening is completely covered. Easy installed and virtually maintenance free.

Note: Frame not included.