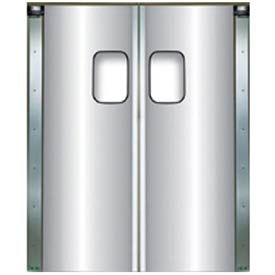 Aluminum Impact Traffic Doors
Aluminum Impact Traffic Doors Allow Convenient High Traffic Access For Restaurants, Retail Stores, Factories, and more.

These Doors are made of aluminum making them lightweight and impact resistant for consistent, reliable use in high traffic areas. Doors close gently on spring-loaded hinges for easier material handling when passing through with food or equipment. Units are designed to allow drips, spills and smears to be easily wiped off for a clean door surface. Features built-in acrylic window for visibility. Door types are Double Door and Single Door. Dimensions vary per model.