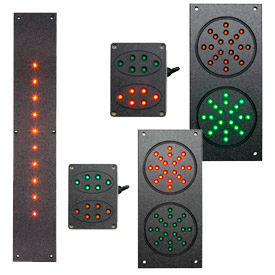 Ideal Warehouse Sure-Lite LED Dock Traffic Lights
Prevent Miscommunication between Truck Drivers and Dock Attendants.

Cost effective traffic lights help prevent catastrophic accidents due to poor visibility in high traffic dock bays. Lights control entry to loading docks by sending a clear message to workers and drivers. LED lights have an illumination life of up to 100,000 hours (10 years) of continuous use and use 30% less energy than traditional incandescent lights; no need to replace bulbs or lenses. Non-glare LED lights offer a 30° viewing angle, making them highly visible day or night. Dock traffic lights are constructed of ½" thick black, stress relieved, sanitized HDP (high-density polyethylene) panel core that will not pit, rust or corrode. Low-profile housing design ensures impact resistance and the LED lights are recessed on the panel face to prevent damage. Light fixture requires 12V/24V power commonly available through dock leveler control boxes. Units operate in temperatures ranging from -40°F to 185°F.

Sure-Lite Exterior and Interior Traffic Lights offer Red and Green LED lights that are instantly understood and "Stop" and "Go", proving clear signals to attendants inside the building and truck drivers outside the building. Note: Does not include Switch Box.

Sure-Dock Alignment Lights allow the truck driver to center their truck and/or trailer in the dock bay. Lights outline the docking area to ensure trailers are spotted easily at the loading dock every time. Best if used in pairs.