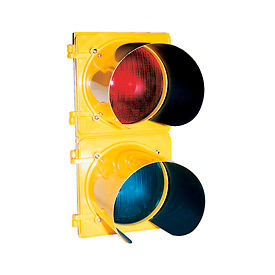 Dock Traffic Light Control Systems
Dock Traffic Light Flashes to Help Prevent Accidents and Injuries, and Provide Communication Between Dock Personnel and Truck Drivers.

Dock Lights feature built-in eyebrow sun visors to increase light visibility. Dock Traffic Lights are made of a lightweight aluminum or polypropylene housing with Red and Green lenses. Available with LED or incandescent lights. Includes 4 caution signs for directing traffic. Dimensions vary per model.