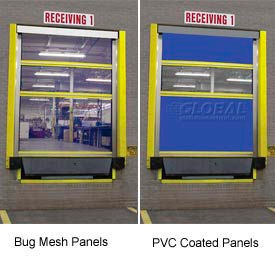 TMI Screen-Pro™ Roll-Up Bug Dock Doors
Insect Barriers Improve Employee Comfort and Productivity while providing Air Circulation and Light Penetration.

The Screen-Pro™ Roll-Up Bug Door is the perfect all-season warehouse and dock door. Innovative design allows for modular, interchangeable door panels that increase energy savings and create a more comfortable work environment.

Three door designs to choose from:
11 oz Bug Screen Mesh Door protects against flying insects, birds, leaves and debris from entering work area, while allowing over 40% air flow into the dock.

22 oz PVC Coated Vinyl Door keeps cold and heat out of the facility. Safety Blue door panels help keep wind, dust and noise out of the warehouse, and helps deter trespassers from entering the building.

22 oz PVC Coated Vinyl Door with a 60 ml Clear PVC Vision Panel offers enhanced visibility and light penetration.

Each door runs in a 4½" deep extruded aluminum guide track and contains aluminum wind stiffeners for added door protection. Bottom breakaway bar allows the door to release from the tracks when struck preventing damage to the screen. Door easily installs in-jamb.

Doors are operated with either a heavy duty Spring-Loaded Lift that allows the user to manually pull the door up and down like a window shade, or a Motorized Lift (for doors larger than 10'W x 10'H) that opens and closes the door via a 115V 1-phase in-tube electric motor that can move as quick as 14" per second.

Custom sizes are available up to 14'W x 14'H; call for more information.

Note: In-Jamb mounted doors take up 4½" of space on each side of the jamb and 9" of space on the top of the jamb. Requires a jamb depth of at least 8".