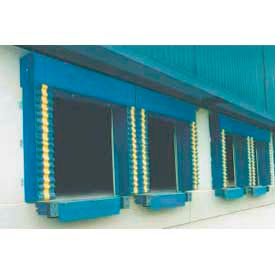 Chalfant Energy Saving Vinyl Pad Dock Door Seals
Cut Energy Costs while Protecting Workers and Merchandise from Outside Elements with these Chalfant Vinyl Dock Seals!
Trucks or Trailers back up against the Dock Seals, compressing the pads, forming an effective seal from hot or cold temperatures, as well as wind, rain, snow, dust and fumes. Polyurethane foam 12"W x 10"D pads are covered with abrasion and flame resistant
40 oz. vinyl coated nylon fabric to withstand heavy, frequent usage.
Factory mounted on 2" thick kiln-dried wood wall mounting bases encased in the seal. All installation hardware is included. Dock Door Seals feature 4" yellow safety stripes for increased visibility. Designed for a level approach with a flush dock face. Dock Seals should project 4" - 6" past the dock bumper.
Dock Bumpers
sold separately.
Also available with
Heavy-Duty Wear Pleats
on side panels to help absorb abrasion.
To Order The Correct Dock Seal, Please Have The Following Information Available:
1. Door Size W' x H'
2. Dock Bumper Projection"
3. Dock Ledge Projection"
4. Dock Height"
5. If approach is not level, tapered seals must be ordered. State % of decline or incline.
Call a Global Sales Representative For Further Assistance.
Note:
An Approval Drawing will be submitted prior to manufacturing the Dock Seal. Some modifications may increase the Sell Price of the Seal, depending upon the extent of the changes.