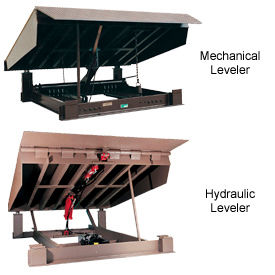 Mechanical & Power Pit Mount Dock Levelers
Pit Mount Dock Levelers allow Easy Loading and Unloading of Trucks at Your Dock.

These Dock Levelers are installed in a concrete pit (professional installation is required). Heavy duty steel offers 1/4" thick treadplate deck and 16"H lip. Loading Dock Levelers include two laminated bumpers. Service range is 12" above and below Dock.

Mechanical Dock Levelers are engineered and designed for minimal maintenance. Pull-chain activates spring assisted lift. Includes telescopic steel toe guards that are flush with platform edge for safety.

Hydraulic Dock Leveler offers simple operation with the push of a button for high usage docks. These powered dock lifts have an electrically activated hydraulic pump that raises deck. 16" lip automatically extends to allow deck to descend onto trailer. When truck pulls away, the deck descends to the full down position, trips the limit switch and returns automatically to the level support cross-traffic position. Electric Dock Leveler include control box with emergency stop button. Specify 115/208/230V 1 phase or 208/230/460V 3 phase power.

When ordering, please specify whether this is for New Construction or to replace an existing Pit Mount Leveler. Custom sizes are available; call for more information.