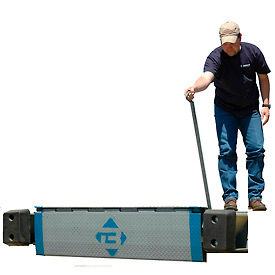 Bluff® EZ-Pull Edge of Dock Levelers
Spring Lift System is Engineered for One-Man Operation and Helps Eliminate Back Strain.

Fast and easy to operate, the Bluff® EZ-Pull Dock Leveler is positioned by lifting and pulling the self-storing handle to the dock floor. The latch assembly activates the leveler lip forward to the floor of the trailer as the handle is lifted. When released, the handle automatically returns to the stored position when truck leaves. Included with each unit are twin 12-¾" x 10" bumpers that extend 16-¾" from dock face. Dock Leveler can accommodate trucks 5" lower or higher than the dock; the optimal dock height for conventional trailers is 51", while the proper dock height for refrigerated trucks is 55"H. Durable 3/8" thick steel safety plate and heady-duty hinges are designed for years of service.

Optional Steel Faced Bumpers and Hydraulic Lift Assist are also available; please call for more information.