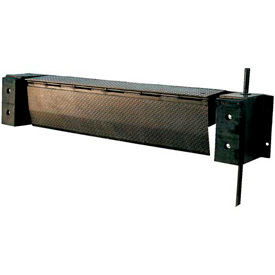 Edge-Of-Dock Levelers
Edge-Of-Dock Levelers offer Easy Installation to any Loading Dock with a Steel Deck Edge.

Recommended for Docks at least 48" high, Mechanical and Hydraulic Edge-O-Dock Levelers permanently attach to the face of the dock. Each unit provides a service range of 5" above or below the dock. When the trailer departs, the lip drops automatically behind the face of the bumpers. Concrete recess is not required. Levelers ship complete with 18"W x 8"D x 2"D bumpers and installation instructions. Standard ramping length is 29".

Note: A steel dock edge, approach ramp or optional approach plate is required for proper installation.