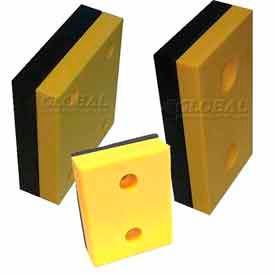 Nytrex® by Ideal Warehouse Premium Dock Bumpers
Specially Formulated Nylon based material is Engineered for Maximum Loading Dock Protection.

Virtually indestructible Nytrex® material offers superior durability to help prevent dock damage and reduce maintenance costs. Simple design offers low noise during operation. High-visibility safety yellow offers easier trailer placement. Limited Warranty is applicable on the Nytrex® material only.

Nytrex® Type 13, Nytrex® Type R and Nytrex® Type 18 bumpers will fit existing anchor locations when replacing molded bumpers of an equivalent size.

Nytrex® TT Slider bumpers move up and down with the trailer. Bumpers are used for Air-ride trailers and yard jockeys. Bumper offers 4 times the life, as you can just flip it "upside down" and "back-to-front" without the use of tools.

Note: Custom sizes and colors are available; call for more information.