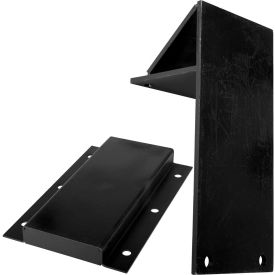 Ideal Warehouse Above-Dock Bumper Riser & Bumper Extension Bracketing
Ideal Warehouse Above-Dock Bumper Riser Brackets may be used when the Truck or Trailer impact height is determined to be "ABOVE" the dock level. Above-Dock Riser Bracketing should be applied in conjunction with the appropriate Dock Bumper. Durable steel construction.

Note: Trade-off may be necessary when considering Above-Dock Riser Brackets as they intrude into the door opening and interfere with the loading and unloading of trailers.

Note: Above Dock Risers can be ordered to include the appropriate dock bumpers and welded to the brackets for easier, one-step installation. Note: Specify if the current dock bumper is welded to the Extension Bracket.