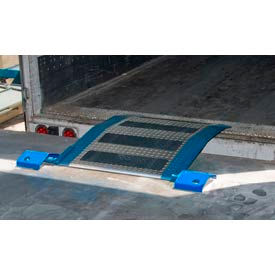 Bluff® Spring-Loaded Aluminum Dock Plates
Bluff® Spring-Loaded Aluminum Dock Plates allow Easy Movement for Beverage and Baked Goods Distributors to Load Trucks & Vans.

Bluff® Spring-Loaded Aluminum Dock Plates are recommended for use at the docks of beverage and baked good distributors, snack, sundry and paper suppliers. Folding Dockplate is used for docks where non-powered hand trucks, platform trucks and dollies need to get into and out of trucks easily. Platform is mounted on the top of the dock and offers dual-spring lift assist for easy vertical storage. Slip-resistant aluminum treadplate construction and machine beveled deck edges for safety. Installs easily (hardware not included). Manufactured and tested in compliance with ANSI Standard MH30.2.

Note: Worksheet will be sent for approval before manufacturing begins, as some dock/truck combinations require special bends and springs.

Optional Kick Plate Cover offers foot and cart protection from mounting hardware. Two are required per Dock Plate.

Optional Traction Tape offers additional slip-resistance and safety. Tape strips are sold individually; 36"L dockplate requires 5 strips and 48"L dockplate requires 6 strips.