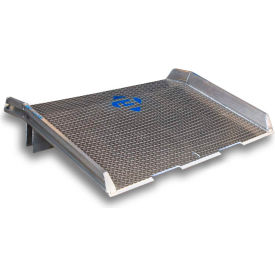 Bluff® Speedy Board® Aluminum Dock Boards
Bluff® Speedy Board® Aluminum Dock Boards offer easier Placement and Retrieval.

These all-welded Aluminum Dock Boards are used for low-to-medium volume dock applications using a pallet jack or a forklift. Heavy duty aluminum treadplate Dock Board features fully welded extruded aluminum curbs and safety restraint legs for maximum corrosion resistance and controlled spark production. Beveled ends offer smooth entry/exit and board includes an 11° bend and an 11" lip on the truck end (customizations are available; call for more information). Each Speedy Board® includes integral Fork Cut-outs for quick, safe placement with a forklift. Comply with OSHA spec. 1910.30(A) and ANSI spec. MH30.2.

NOTE:
CAPACITY is the combined weight of your maximum pallet load and lift truck. Capacity is rated for equipment speeds of 3 mph maximum. Stackers and other narrow aisle loaders should not be used on a dockboard.

WIDTH should be 12" greater than lift truck or load. Usable width is 6" less than overall width.

** The HT" DIFFERENCE UP is the height difference above the dock.
14% Grade applies to Pallet Trucks and Electric Forklifts. 19% Grade applies to Gas Powered Forklifts.