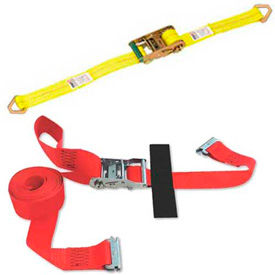 Cargo Control Winch & Ratchet Tie Down Strap Assemblies
Cargo Control Winch and Ratchet Tie Down Strap Assemblies Secure Cargo for Applications Including Fleet, Distribution, Storage, and more.

These cargo control winch and ratchet tie down strap assemblies are designed to secure material during transport to prevent spillage and possible damage. The spring loaded ratchet buckle provides necessary tension to secure cargo and features a one-handed release for ease of operation. Ultimate load limits range from 900 to 40,000 lbs. Working load limits range from 400 to 13,333 lbs. Web lengths range from 6' to 100'. Widths range from 1" to 5.57". Package quantities and dimensions vary per model.