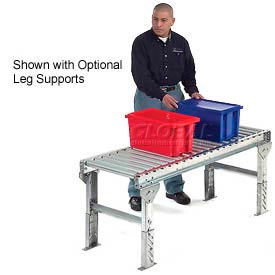 Omni Metalcraft Heavy Duty 1.9" Dia. Steel Roller Gravity Conveyors
Omni Metalcraft Heavy Duty 1.9" Diameter Steel Roller Conveyors are designed for Medium-to-Heavy Duty Material Handling Applications in Warehouses and Factories.
Omni Metalcraft Heavy Duty Roller Conveyors are used for moving material with complex or flat bottoms, or carrying packages and components. The butt coupling on the gravity roller conveyors allow for bolting sections together. Durable Gravity Conveyors have a 3-1/2" x 1-1/2" galvanized steel channel frame for strength and long life. Capacity of 10 ft. sections can be increased by adding center leg supports to equal capacity of two 5 ft. lengths.
Legs are sold separately
Available load capacities are 925, 1200, and 2550 lbs.
Conveyor section styles are 90° Curve, and Straight.
Other dimensions vary per model