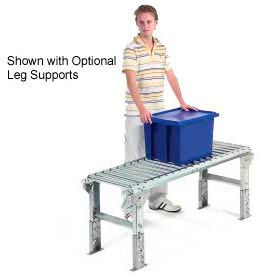 Omni Metalcraft Light Duty 1-3/8" Dia. Aluminum Roller Gravity Conveyors
Omni Metalcraft Light Duty 1-3/8" Aluminum Roller Conveyors are Lightweight for Portability and offer Maximum Corrosion Resistance.
Omni Metalcraft Roller Gravity Conveyors are used for moving materials with complex or flat bottoms, and carrying packages and components.
Straight and Curved Gravity Conveyors
provide an economical and flexible material handling solution. 2-1/2" x 1" x 1/8" aluminum channel frame with hook and rod coupling connects additional gravity conveyors.
To increase the capacity of 10 ft. sections add center leg supports to make capacity equal to two 5 ft. lengths.
Conveyor sections are 90 degree curve, and straight
Roller centers range from 1-1/2" - 6"
Available lengths are 3', 5' and 10'
Widths are 12", 17", 18", 23", 24", and 29"
Pound capacities re 160 lbs. and 710 lbs.
Legs are sold separately