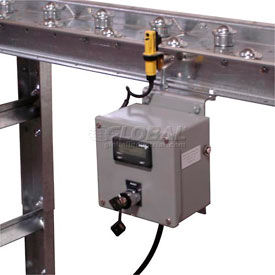 Omni Metalcraft Industrial Conveyor Rate Indicator
Quickly Count and Cross-Check Packages, Parts and More with this Conveyor Rate Indicator.

Conveyor Rate Indicator utilizes a diffused reflective photo eye to efficiently count parts and supplies as they pass through conveyor. Rate Indicator may also be setup to indicate conveyor speed. Counter photoelectric sensor includes a 3'L cable and swivel-action universal mount that allows the sensor to be remotely mounted, offering custom product-to-sensor alignment. Conveyor Flow Rate Indicator features a 6-digit LCD digital display with keyed reset switch. Electronic Counters have a galvanized steel mounting bracket to easily attach to all Omni Metalcraft stationary Skate Wheel, Roller, Ball Transfer and Power Belt conveyor frames. 120V and a NEMA 12 rated enclosure. Other options available; please call for more information.