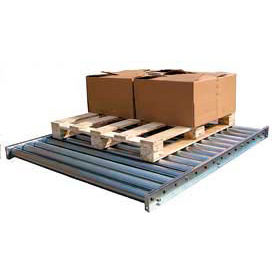 Pallet & Skid Floor Conveyor
Pallet & Skid Conveyor allows Maximum use of Floor Space, Move Pallets and Stage Shipments without Tying up your Forklifts and Pallet Jacks.

Industrial Pallet & Skid Floor Conveyor easily transports fully loaded pallets and skids throughout your warehouse or loading dock. Roller Bed Skid Conveyor is made with all welded 3-1/2" x 1" x 10 gauge zinc-plated steel that resists rust and corrosion. Pallet Conveyor features butt couplers to join conveyor sections together. Pallet Mover includes 2-2/5" diameter, 13 gauge spring-loaded rollers that are set low in frame and mounted on 3-15/16" centers. Shipped assembled.