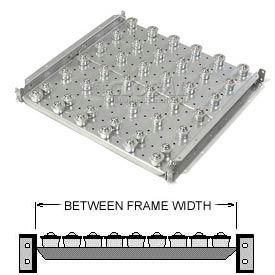 Omni Metalcraft Ball Transfer Conveyor Tables
Omni Metalcraft Ball Transfer Tables allow Products to be Manually Rotated or Correctly Positioned on Conveyors.
Omni Metalcraft Rotation Conveyors are used for workstations that need quick, easy handling of a product, or when more than 2 conveyor lines converge and packages must be transferred from one line to another. Ball transfer positioning conveyors are compatible with 1.9" diameter roller conveyors and feature 1" diameter stud mount ball casters set on a 1-1/2"W x 3-1/2"H x 10 gauge galvanized steel frame. 65 lb. capacity per ball. Legs are sold separately.
How To Order:
1.
Determine the ball transfer table size required. Overall width is determined by adding the Between Frame Width and two 1-1/2" frame sides.
2.
Determine the necessary capacity of the table and order accordingly.
3.
The closer the centers, the smaller the package size that can be moved.
Permanent Conveyor Leg Supports
(sold separately) offer height adjustable pivot plate mounts for greater flexibility, and may be bolted to floor. Available in 30" to 42", 18" to 24", 22" to 28" and 38" to 50" Adjustable Height Ranges (click into each Model for all Ranges).
Additional 1" Diameter Stud Mount Ball Transfers are available to customize your Ball Transfer Conveyor
Permanent conveyor leg table supports available in 30" to 42", 18" to 24", 22" to 28" and 38" to 50" adjustable heights
Capacity in lbs range from 960 lbs - 2240 lbs
Ball centers are 3", 4", and 6"
Other dimensions vary