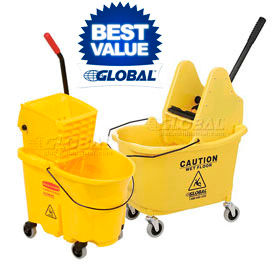 Mop Buckets & Wringers
Mop Buckets and Wringers Are Designed for Mopping In Industrial, Commercial and Retail Janitorial Maintenance

Mop buckets and wringers remove and contain water. Units are made of zinc, stainless steel, galvanized steel, plastic or other high quality materials for lasting durability. Bucket and bucket/wringer combinations with either down press or side press option available. Wringers ensure clean and safe mopping by easily keeping water confined within bucket. Buckets easily maneuverable on rolling casters. Available bucket capacities range from 21 to 46 Quarts. Specifications vary per model.