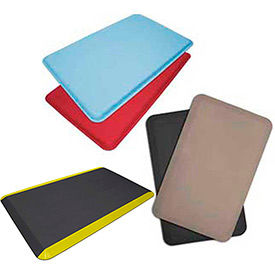 GelPro® Anti Fatigue Mats
Anti-Fatigue Mats Promote Healthy Posture And Full Body Support For Extended Standing In Warehouses, Factory Floors, Laboratories And More.
Eco-Pro Mats
are made using Bio-Foam®, an environmentally-sound plant-based material, and polyurethane for long lasting use. Low-profile, durable edges prevent tripping. Matte textured surface provides added friction.
GelPro Medical Mats
are made with a gel core to relieve discomfort during long periods of standing. Anti-microbial, anti-bacterial surface is water-resistant and ensures safe friction levels for workers wearing laboratory/surgical booties. All mats are certified by the National Floor Safety Institute for superior high-traction properties. Available color finishes are
Black, Black/Yellow, Blue, Red, and Taupe.
Dimensions vary per model.
GelPro ™Patented gel technology with energy-return foam base
For use in dry environments and standing workstations
NewLife ™ mats are molded memory foam
Deep cushion support
No curl edges
Seam-free and non-toxic components
Incomparable support for retail and commercial use