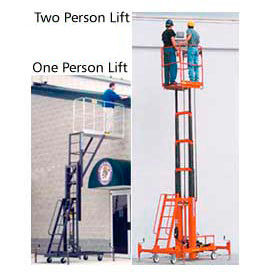 High-Platform Maintenance Lifts
These High-Platform Maintenance Lifts allow you to Safely and Quickly Perform Maintenance Work at Heights up to 34'.

Slip-resistant platforms are completely enclosed with 42"H guardrails with mid-rails, and a 4" toe guard on 3 sides. The 32"W platform base fits through standard doorways and leveling jacks provide stability on uneven surfaces. Platform lifts have a mounted control panel and a built-in ladder with handrails. Work platforms meet or exceed ANSI standards. Choose between the standard gray enamel finish or the upgraded safety orange finish Model #237360.

One-Person Platform Lifts have a 300 lb. capacity and feature an easy-to-use hydraulic hand pump (Powered Lift option is available). Includes four 6" casters.

Two-Person Platform Lifts have a 28" x 36" platform with 500 lb. capacity. Includes four 8" casters. Choose from AC or DC Powered models:
AC Lifts run on 110V/12 amps with a 25' power cord.
DC Lifts include a deep-cycle 12V battery that recharges using an 110V outlet, and provides 80-100 lift cycles between charges.