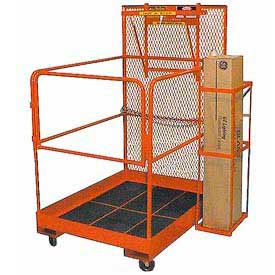 Forklift Maintenance Platforms
Forklift Maintenance Platforms Accommodate Material Handling Transportation Processes For Warehouses, Facilities, and more.

Forklift maintenance platforms provide stable surfaces for users and packaged materials. Most units include a non-skid forklift platform with 4" toe guard edge, a steel safety screen to shield operator from forklift mast and a safety chain to attach forklift platform to forklift.

Forklift maintenance platforms also include 42"H handrails with a locking gate and mid-rail. Forklift platforms have a highly visible orange powder coat finish and 4" swivel casters for easy positioning. Fork pockets are 2" x 7" and 29" on center. Meets ANSI B 56.10 standards.

Choose All-Welded or Ready-to-Assemble forklift work platforms. Specifications vary per model.