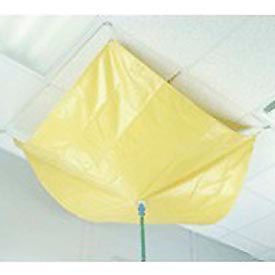 Ultra Roof & Pipe Drip Diverter®
Ultra Roof & Pipe Drip Diverter® Provide a Temporary Fix For Leaky Ceilings in Offices, Schools, Factory Floors and more.

Leak Diverter Tarps catch roof leaks to prevent slip hazards and divert water away from workers and equipment. Flame-retardant vinyl-coated fabric ensures lasting durability. Ultra Roof Drip Diverter® come with heavy-duty D-rings that attach securely to grommets in each corner for easy installation. Available in sizes ranging from 5'x 5' up to 20' x 20'. Ultra Pipe Drip Diverter® hangs off of ceiling pipes from bungee cords (sold separately) to collect drips from pipe leaks with a large 18"D opening. Bungee Kits come with four cords and are available as Adjustable Cords or Rubber Cords. Drainage Hoses (sold separately) measure 25'L and are available in Clear or Green.