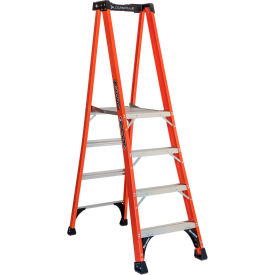 Louisville Fiberglass Pro Platform Ladders
Fiberglass Pro Platform Step Ladders Offer Productivity, Comfort And Safety.

Ergonomically positioned ProTop™ increases productivity, and includes magnet and multiple slots for easy access to tools and supplies. Larger platform areas for added comfort. SHOX™ bracing provides superior impact absorption. Double-rivet step construction. Wide back braces. Features extended handrail for added comfort and safety. Fiberglass construction.