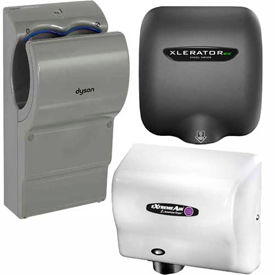 Automatic Hand Dryers
Automatic Hand Dryers Provide High Intensity Heated Air Pressure For Efficient Hand Drying in Restrooms, Locker Rooms, and more.

Dryers are made of aluminum, cast iron, zinc alloy, plastic, porcelain, stainless steel, steel, high impact ABS or thermostat fiberglass for long lasting durability. Electronic sensor allows for no-touch operation. Choose from top brands including Xlerator, Dyson Airblade, World Dryer, American Dryer and more.