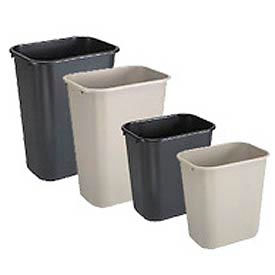 Rubbermaid® Wastebaskets
Rubbermaid Wastebaskets Provide Economical and Space Saving Waste Disposal.
These trash cans easily fit under standard desks or in kitchens or garages. Rounded corners for extra strength.
Plastic Trash Cans
resist punctures, cold, cracking and chemicals. Durable plastic won't chip, rust or dent. Available with spring tops.
Fiberglass Garbage Cans
have a textured finish to help hide scratches.
Fire resistant
. CSFM approved for fire safety. UL tested to contain burning paper without wastebasket meltdown.
Now Sold Individually
. Easy to clean.