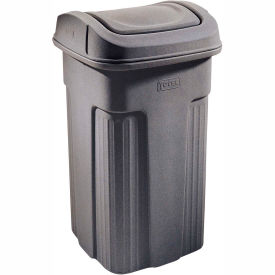 Toter Slimline Containers
Toter's Slimline Containers Provide Effective, Sustainable Waste Collection for Commercial and Institutional Environments.

They are extremely rugged and built to last Matching lids come in either dome top, or swing door. Extreme Purpose Toter carts are designed and built for function, with craftsman-like attention to detail. Extreme Toughness Constructed using Toter's Advanced Rotational Molding process - no seams means superior strength. Extreme Wear Toter carts are built to keep working long after others fail - more than 2x longer. They are backed by a 2 year warranty, the best in our industry. They're available in blue and greystone to complement any contemporary environment. Available 25, 35, and 50 gallon square, half round, and rectangular containers.