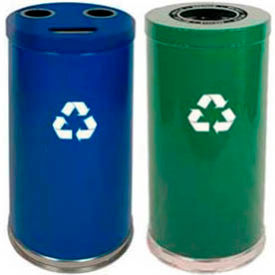 Steel Recycling Waste Receptacles
The Unique Design Of These Recycling Containers Provide Convenient Disposal For All Types Of Recyclable Waste In One Receptacle.

Recycling receptacles are made with heavy gauge steel with a stainless steel bottom band. Removable lid allows easy access to a removable polyethylene liner. Lid is made from spun aluminum with a powder coat finish. Includes recycling decals. Single Opening Containers feature a 7" dia. opening for recycling waste. 2-In-1 Recycling Cans include a removable lid with 7" dia. hole openings and two plastic liners.3-In-1 Containers feature a removable 3-hole lid that allows convenient access for cans & plastic bottles, glass and paper recycling. Includes 3 separate removable polyethylene liners that provide separate waste compartments for low maintenance.