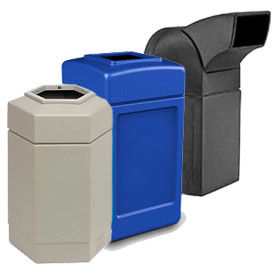 Contemporary Design Indoor/Outdoor Waste Receptacle
Contemporary Design Indoor/Outdoor Waste Receptacles Accommodate Waste and Recycling Stations For industrial and Commercial Areas.

Contemporary design indoor/outdoor Waste Receptacles provide large reinforced openings for easy waste disposal.Contemporary, attractive styling of these garbage cans blend well with any office, retail or outdoor environment. High-density polyethylene constructed receptacles are impact resistant with 25% post consumer recycled materials feature built-in UV inhibitors to withstand extreme weather conditions prevent chipping and rusting. Grab Bag® system holds liner in place and out of sight. Available with Flat, Dome, Ashtray or Drive-Through lids. 1 Year Limited Warranty.