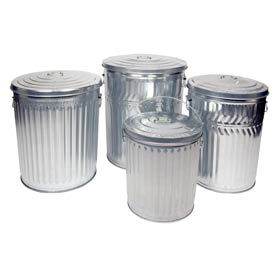 Galvanized Steel Garbage Cans
Galvanized Steel Garbage Cans Withstand Tough Environments for Lasting Durability.

Made using prime, heavy gauge galvanized steel with zinc treatment for corrosion resistance. Deep body corrugations for superior strength. Commercial Duty Cans is perfect for light-duty commercial use and made using 27 gauge galvanized steel. Medium Duty Cans are made using 25 gauge galvanized steel. Heavy Duty Cans meet most government specifications and are made using 23 gauge galvanized steel. Optional Lids protect contents while sealing in odors. Lids help garbage cans comply with OSHA standards (sold separately).