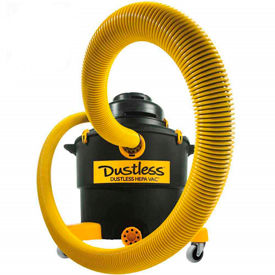 Dustless® Wet Dry Vacuum Cleaners
Dustless® Wet Dry Vacuum Cleaners are the Best for Capturing Fine Dust from Drywall Sanding, Grinding/Cutting of Concrete, Brick, Stone or Fiberglass

These powerful vacuums clean-up extremely fine particles such as concrete, stone, fiberglass and drywall using a 2-layer filtration process. Primary filter uses an agitator rod to dislodge debris and dust. Filters are made of machine-washable synthetic fabric. For wet use, an internal tank and check ball prevent water from rising up to the filter or motor to continuously run without changing filters. Automatic air shut off protects motor from filling up with too much water. High impact tank for trouble-free use. Vacuum emits up to 79 dB but offers a powerful motor and a The disposable, tear-resistant micro pre-filter bags capture and hold up to 40 lbs. of dust and water. Tool kit with on-board storage includes 12'L hose, extension wands, hard surface floor tool and crevice tool. Available with or without HEPA filtration. HEPA Wet Dry Vacuums capture airborne particles down to 0.3 microns. HEPA vacuums meet OSHA, EPA and NIOSH guidelines.