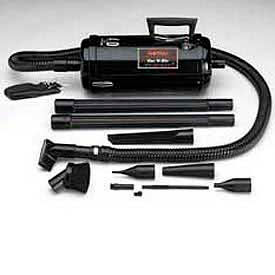 Metro® Vac 'N, Blo® Garage Vacuum Blowers
Deep Clean The Interior Of Your Car, Truck Or Workshop Easily With These Automotive Vacuum Cleaners.

Vac 'N, Blo® Garage vacuum blowers are available in lightweight Handheld or ultra-high capacity Wall Mount Vacuum Blowers. Features steel body with enclosed 4.0 HP, twin-fan industrial motor that produces 95 water lift. Filtration includes permanent cloth dust bag and easy-change foam filter. Tool kit includes upholstery tool, crevice nozzle, dust brush, inflator nozzle, 4-piece detailing kit and two 20 extensions. 12 L, 120V grounded power cord. Metro® Vac 'N, Blo® Handheld Vacuum includes 6'L flexible hose and shoulder strap. Wall Mount Vacuum includes 24'L flexible hose, wall mount bracket and swivel brush. Made in the USA.