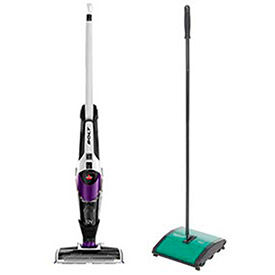 Bissell® Manual Sweepers
Bissell® Manual Sweepers Offer Convenient Maintenance for Cleaning Low Carpets and Bare Floors Without the Use of Cords.

These manual sweepers are lightweight, maneuverable cleaners with a durable threaded handle and soft rubber wheels that conform to a variety of floor surfaces. Manual and Battery powered models available in a variety of cleaning widths, styles and dirt collections. 1-Year Limited Warranty.