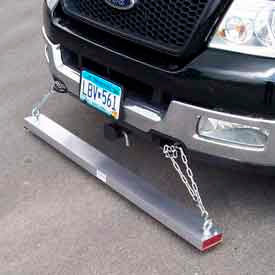 Roadmag Magnetic Sweepers
Roadmag Magnetic Sweepers Easily Mounts On Vehicles And Forklifts In Under A Minute.

Magnetic sweepers help reduce tire repair costs by getting rid of tire damaging steel, nails, wire, screws and other metallic debris. Removes shard objects from highways, parking lots, runways and more. Simple-to-use magnetic sweeper automatically picks up steel objects to provide an alternative solution to brush sweepers, vacuums and power sweepers. Not affected by rain, dust or temperature. Can be used over asphalt, concrete, grass and gravel. Eyebolts allow easy hanging from nearly any vehicle (chains not included). RoadMag requires use with a mounting bar for use with forklifts (bar not included). Allows a sweeping height of 1-1/2" to 3" off the ground. Wipes clean with a cloth or glove. Load Release RoadMag features fork pockets for easy forklift attachment. Load release lift-handle for easy disposal of debris. Made with heavy gauge steel and aluminum. Roadmag Magnetic Sweepers are USA Made. 1 Year Limited Warranty.