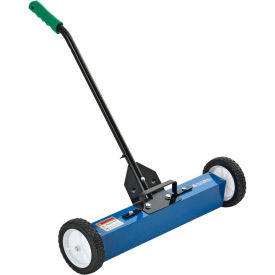 Magnetic Floor Sweepers
Magnetic Floor Sweepers Allow Easy Metallic Debris Pick-Up on Virtually Any Floor Surface.

Magnetic floor sweepers help get rid of damaging steel, nails, wire, screws and other metallic debris. Simple-to-use magnetic sweepers automatically pick up steel objects to provide an alternative solution to brush sweepers, vacuums and power sweepers. Can be used over asphalt, concrete, grass and gravel. Handle and roller bearing wheels allow easy push-broom style sweeping over hard floor surfaces and rough terrain. Multi-Surface Magnet features a load release lever for easy removal of debris. Made with heavy gauge aluminum housing. Offers an adjustable sweeping height of 3/4" to 1-1/2" off the ground. Includes 7" wheels and a removable handle for easy storage. Terminator Sweeper offers a powerful 175 lbs. of sweeping power. Includes a removable handle, load release bar and 8" wheels. 4" x 5" heavy gauge aluminum housing. 2-In-1 Terminator Sweeper easily converts from a heavy duty push sweeper into a forklift magnetic sweeper. Made using heavy gauge steel and aluminum. Includes a removable handle and 8" wheels. Unique lever release system for fast debris removal. Fork pockets fit on forks up to 5"W. Magnet PI Sweepers include 6" wheels. These high-power, low cost sweepers are used for roofers and maintenance firms. Economag Sweeper is the most economical magnet on the market that offers powerful operation that picks up large amounts of material. Lightweight at only 8 lbs. Removable 38"L handle. Unit wipes clean with cloth or glove. Magnetic Floor Sweepers are USA Made. 1 Year Limited Warranty.