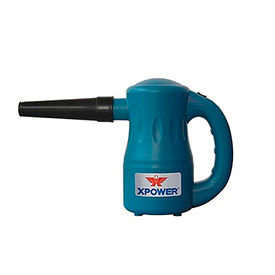 XPOWER Multipurpose Electric Duster & Blowers
XPOWER Multipurpose Electric Duster And Blowers Remove Dust And Contaminants From Keyboards, Electronics, Appliances And More.

XPOWER multipurpose electric duster and blowers are made of high quality materials for long lasting durability. Electric units eliminate the cost of canned air dusters, provide application diversity and remove airborne contaminants. Styles include Airrow Pro Multipurpose Electric Duster and Electric Duster/Blower. Available speeds are 2. CFM ratings are 90. HP is 3/4. Amps are 4.5. RPMs are 35,000/40,000 and 40,000. Colors are Blue/Green and Green. Power cord length is 10'. Dimensions vary per model.