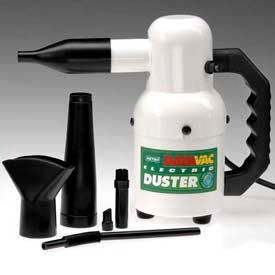 Metro DataVac® Electric Duster®
Metro DataVac® Electric Duster® Is Used For All Computer, Electronic, Audio, Video And Digital Camera Equipment.

Electric duster blows clean, dry, filtered air. The powerful 0.75 HP, 500 watt electric motor blasts off dust, dirt and debris. Features all steel power duster with 12' power cord, Air-Pin-Pointer, 7/8" Air-Concentrator nozzle, Air-Flare nozzle and 4 piece micro-cleaning tool kit. Condensation-Free, contains no dangerous propellants. Available in Standard or ESD Safe duster. 5 Year Limited Motor Warranty. Made in the USA.