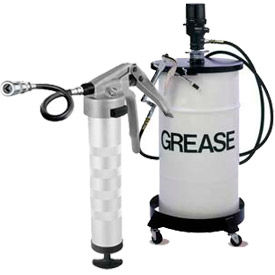 Lubricators and Accessories
Lubricators and Accessories Are Designed For Lubricating Machinery In Factories, Construction Applications, Automotive Repair and more.

Lubricators and accessories come in a variety of sizes and styles to suit a variety of lubrication applications. Grease guns are available in styles that include Lever, Continuous Shot, Single Shot, Pistol Grip, and more. Accessories like Grease Pumps, Greasing Kits, Grease Hoses and Grease Couplers are also available. Choose from several trusted grease gun brand names.