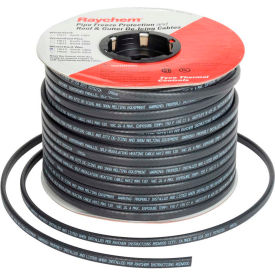 Heating Cables for Pipes Roofs and Gutters
Heating Cables For Pipes Roofs and Gutters Provide Freeze Protection For Multiple Applications Including Residential, Commercial, Industrial, and more.

These heating cables are designed for de-icing and freezing prevention on metal or plastic pipes, roofs, and gutters. Self-regulating cables are made of high quality materials and will not burn out or overheat when overlapped ensuring years of durability in wet and dry weather conditions. Units may be used on a wide range of pipe diameters to prevent pipe damage and costly repairs associated with freezing temperatures. Available types are Assembly Required and Pre-Assembled. Volts are 120 and 240. UL listed, CSA certified. Lengths range from 6' to 250'.