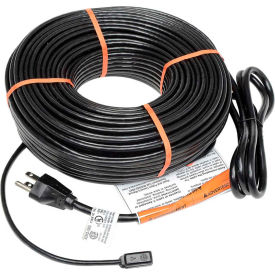 Heating Cables for Roofs and Gutters
Heating Cables For Roofs and Gutters Provide Freezing Protection For Residential, Commercial, Industrial, and Other Related Applications.

These cables are designed to prevent costly roof damage and leaking by maintaining free flowing water through gutters and downspouts in wet or dry weather conditions. Units are pre-assembled and require no special wiring or assembly. Includes shingle clips, cable spacers, and 3-prong grounded plug for installation ease. 120V. UL, CSA certified. Lengths range from 60' to 200'.