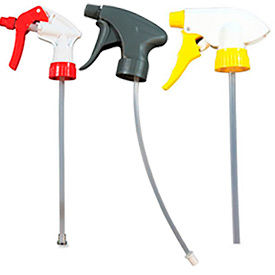 Replacement Nozzles
Replace bottle nozzles when tubes and chambers become blocked by debris or buildup, causing reduced output. Upgrade existing nozzles with enhanced safety and comfort nozzles to fit any application.


Chemical resistant sprayers feature Viton® seals for seal resiliency and solvent degradation.
High output sprayers are able to apply 2-3x more product than standard sprayers, allow large area coverage in a short time.
Nozzles feature adjustable spray pattern tips -- turn to adjust from fine mist to constant stream.