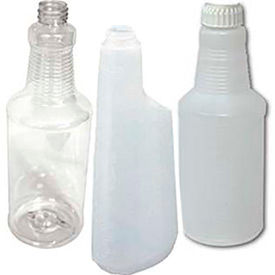 Replacement Bottles
Plastic replacement bottles are made from durable and translucent materials for portable dispensing of cleaning chemicals.


Anti-Backoff models lock the nozzle to the bottle to prevent accidental loosening and spillage.
Standard, hand grip and countoured models have a 28mm/400 universal neck thread for screwing on most popular sprayer or squeeze nozzles and caps.
Bottles have imprinted graduation marks allowing users to easily measure product for dilution inside the bottle.