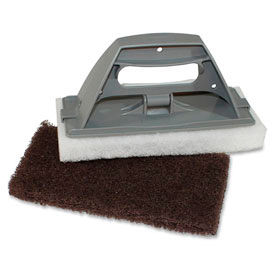 Pads & Holders
Pads & Holders are unbeatable combos for scouring large surface areas and hard to reach places where cleaning by hands alone isn't possible.


Holders hold scouring pads and sponges in place with even scrubbing pressure.
Swiveling holders allow attachment to extension poles for long-range cleaning of walls, ceilings and baseboards.
Handheld holders promotes ergonomic leverage while scouring grills and griddles, while keeping hands away from hot grease and heat.