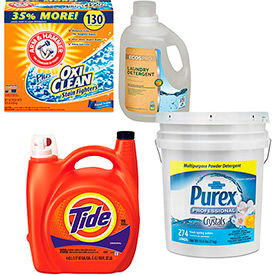 Liquid & Powder Detergents
Laundry Detergents Power Through Stubborn Dirt, Grass Oils and even Blood Stains from Uniforms, Towels, Linens, and More.

Trusted in the residential, medical, foodservice and hospitality sectors, detergents are a reliable force in sanitary maintenance. Available styles include powder, bar, concentrated liquid, High Efficiency (HE) liquid low sudsing formuals, and natural liquid detergents using sustainable, plant-based ingredients. Brands feature recognized leaders in laundry care such as Tide, Arm & Hammer, Purex, Gain, Persil and more. Sizes range from 2 oz single-serve vending machine packs to 55 gallon drums.